Pure retro: a two-wheeled trip down memory lane
Remember the late Sixties heyday, when everyone rediscovered the joy of riding a motorcycle: leather jacket, jeans, open helmet and daring to challenge the norm. Essentially, we're experiencing the same sort of revival today. But this time, flip-up helmets and hi-vis vests are the norm.
Retro – what's it all about?
Retro, vintage, urban, custom – a trend with many names. But what it actually comes down to is rediscovering what originally made the motorbike scene so special. Freedom is a major factor. Feeling free from constraints and conventions, free to do your own thing and go your own way.
This movement is also driven by the desire to buck the trend of ever higher performance and ever more sophisticated engineering, which threatens to stifle what really matters about the motorcycle experience.
And, of course, it's also about simply enjoying the open road without having to wear as much gear as an astronaut on his way to the launch pad. The good news is that today's technologies and materials mean you can get an authentic biking experience plus a cool look without compromising on safety. Here are a few examples.
Clothing/Helmets
There isn't just one retro style. In fact, there's a whole range of styles out there, from classic to laid back or extravagant. So lots of scope for expressing your individuality, which is what it's about, after all. Having said that, safety is still a vital aspect: high-tech fabrics (Armalith, Kevlar, Cordura). Membranes and protectors give protection and comfort behind the classic exterior.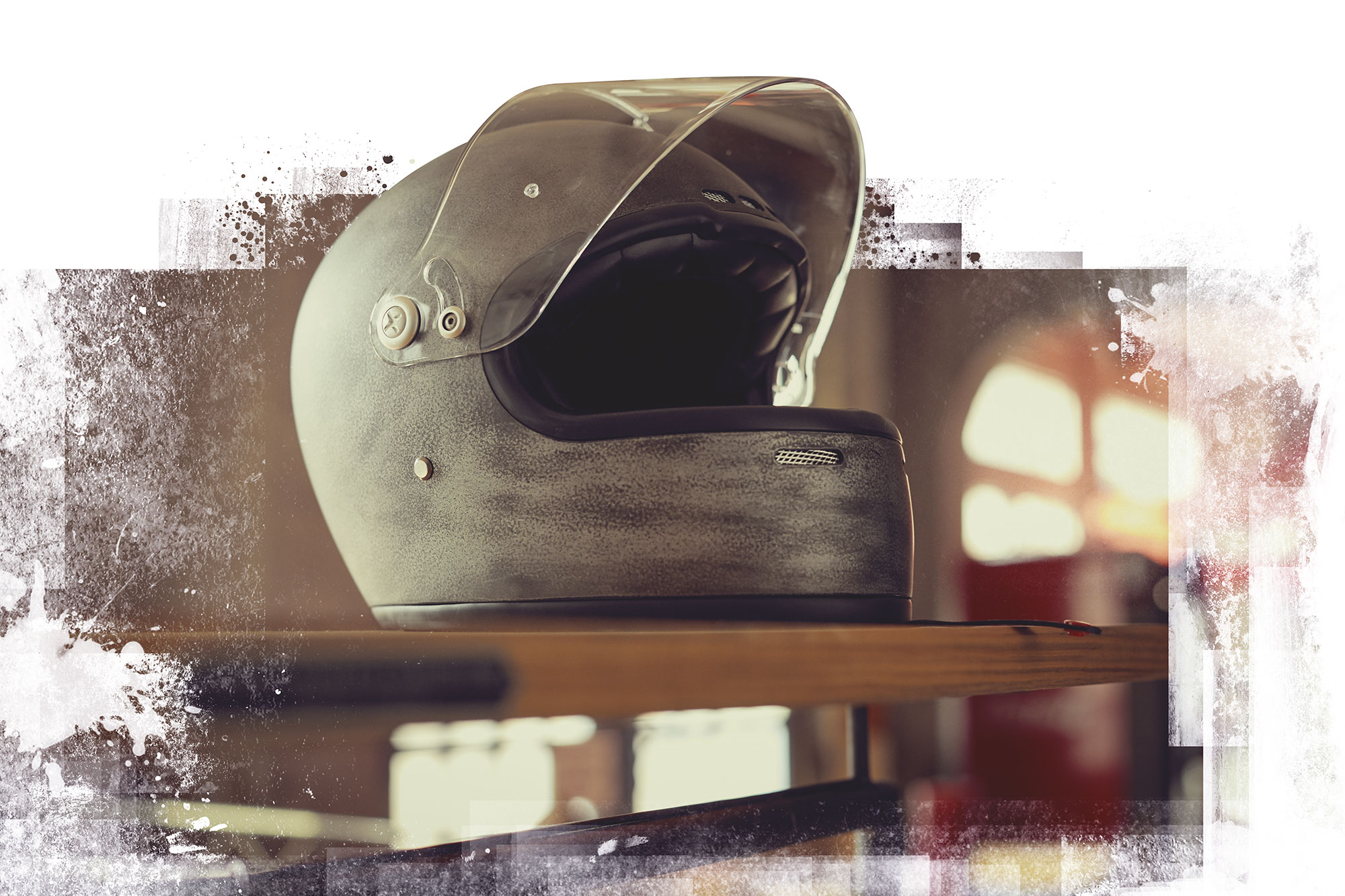 Though sometimes it may seem as if everything was better in the old days, it really isn't true, and certainly not as regards helmets. That doesn't just mean impact absorption and the durability of the outer shell. Fit, ventilation, visor technology, fastening systems, and basically the whole functionality and wearing comfort have improved almost beyond recognition.
Likewise, the choice of shapes and designs available today simply can't be compared. So fresh-air lovers will find a vast range of jet (open-face) helmets at Louis.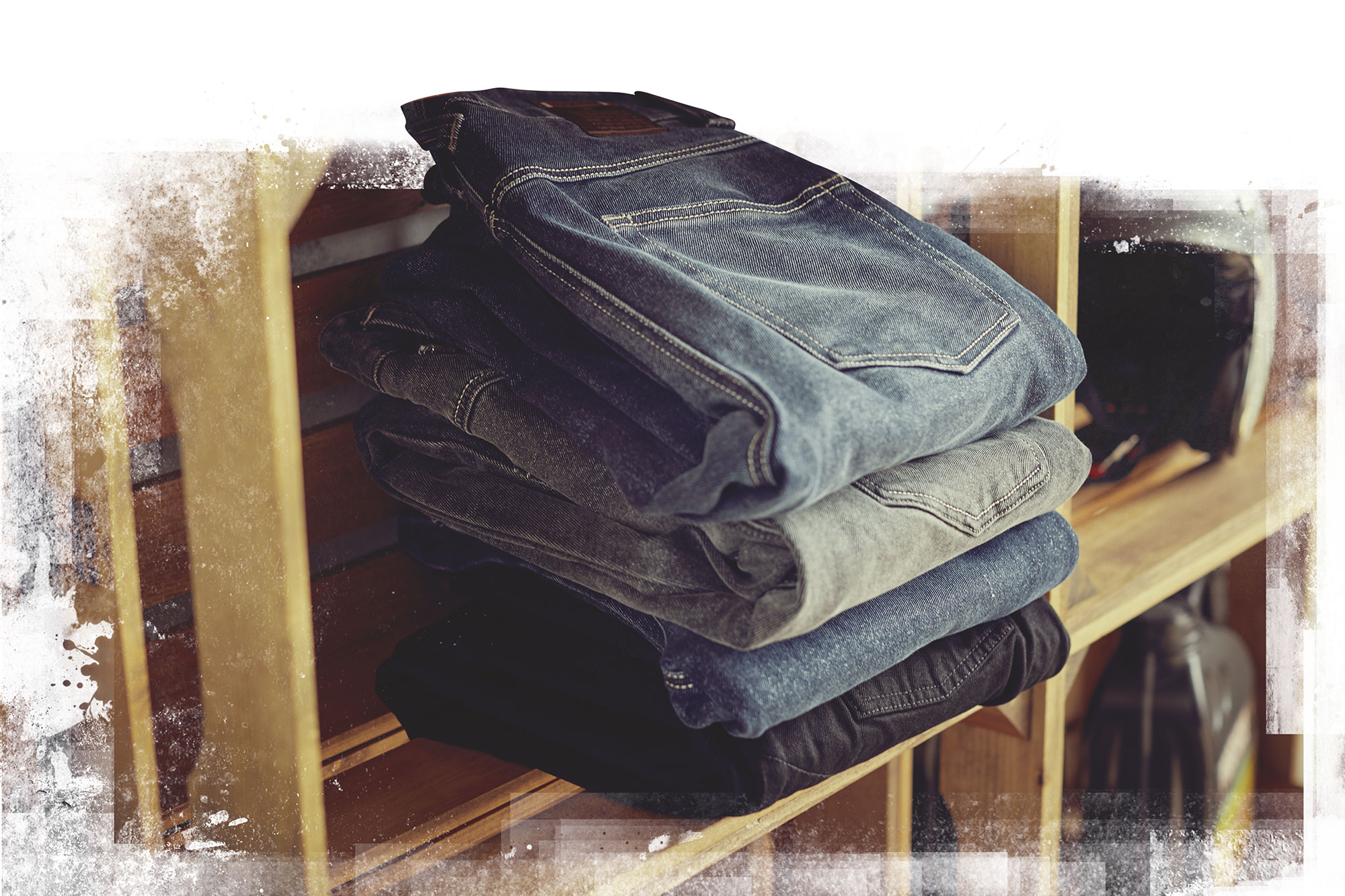 The classic leather jacket never really went out of fashion, but right now it's enjoying an amazing comeback. The story with trousers is even more interesting: jeans have become proper biking gear. The already sturdy denim fabric has been upgraded into fully fledged protective clothing, complete with high-tech fibres and protectors.
The same goes for footwear. Nowadays, what look like your classic sneakers/trainers or basic boots actually boast safety features such as ankle protectors and sturdy soles. And, if you like, you can also have a climate membrane to make the garment ideal for everyday wearing.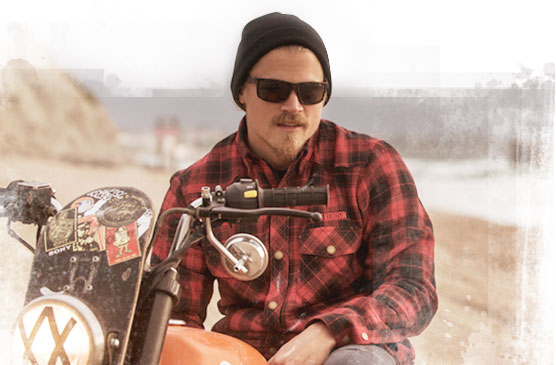 The retro revival is not limited to motorcycle clothing. After all, you take your lifestyle with you when you get off your motorcycle.
Caps, cargo trousers, hoodies, lumberjack shirts and any number of t-shirts. In fact, you can find your complete outfit at Louis, including the big brands of the motorcycle scene.
---
Accessories & tools: the art of motorcycle mechanics
Customisation is the name of the game in the motorcycle scene. Whatever you make out of your machine, the main thing is to do it yourself and with your own ideas. Louis can give you a lot of help – with countless accessories, from round headlights through to canvas panniers plus a range of tools that any professional workshop would be proud of. And, not least, our own custom bike projects, which we present here. Let yourself be inspired.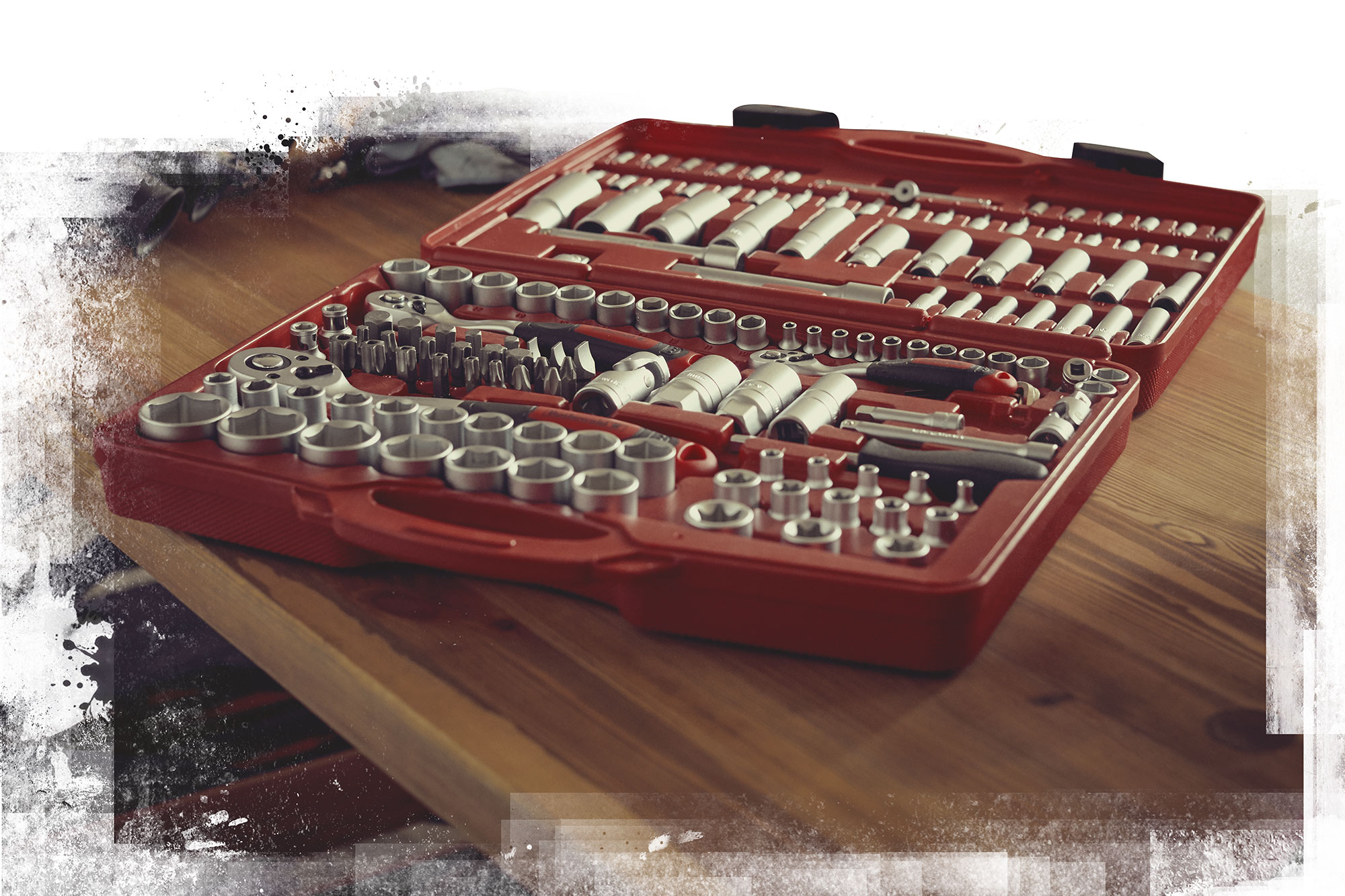 Working on your own motorcycle is one of the most satisfying leisure activities - apart from actually riding your bike, of course. First there's the pleasure of the challenge, and then you have the reward of a successful result that you can immediately see and feel. It's a great way to use your imagination and creativity.
But you need the right tools if you don't want the enjoyment to turn into frustration. You can quickly put together the essentials: a set of combination wrenches, socket wrenches and screwdrivers. When you gain experience and become more ambitious, you can build up your own complete workshop piece by piece. You're certain to find everything you need at Louis.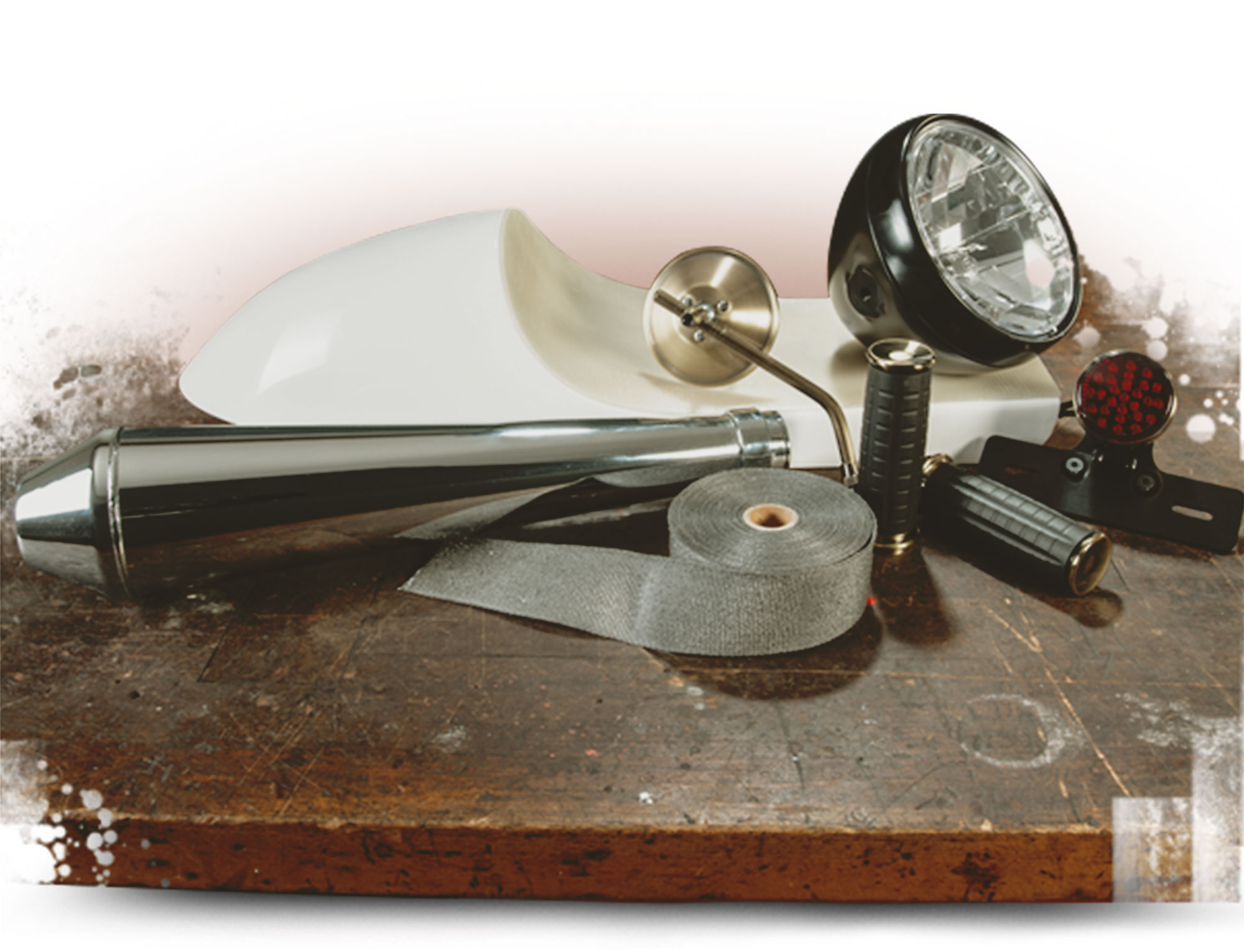 You don't need a huge budget, nor do you have to sacrifice practicality for looks. The accessories range from Louis makes it easy to give your motorcycle its own unique style. The choice is endless.
---
Retro show bikes, made by Louis
How do you create an absolutely unique show bike on a tight budget? With a lot of know-how, good contacts and loads of enthusiasm! Plus one more important ingredient: accessories from the Louis catalogue. There's no need to search for something exclusive or out-of-the-ordinary. These great machines are based on simple everyday motorcycles that you can easily pick up almost anywhere. Let yourself be inspired!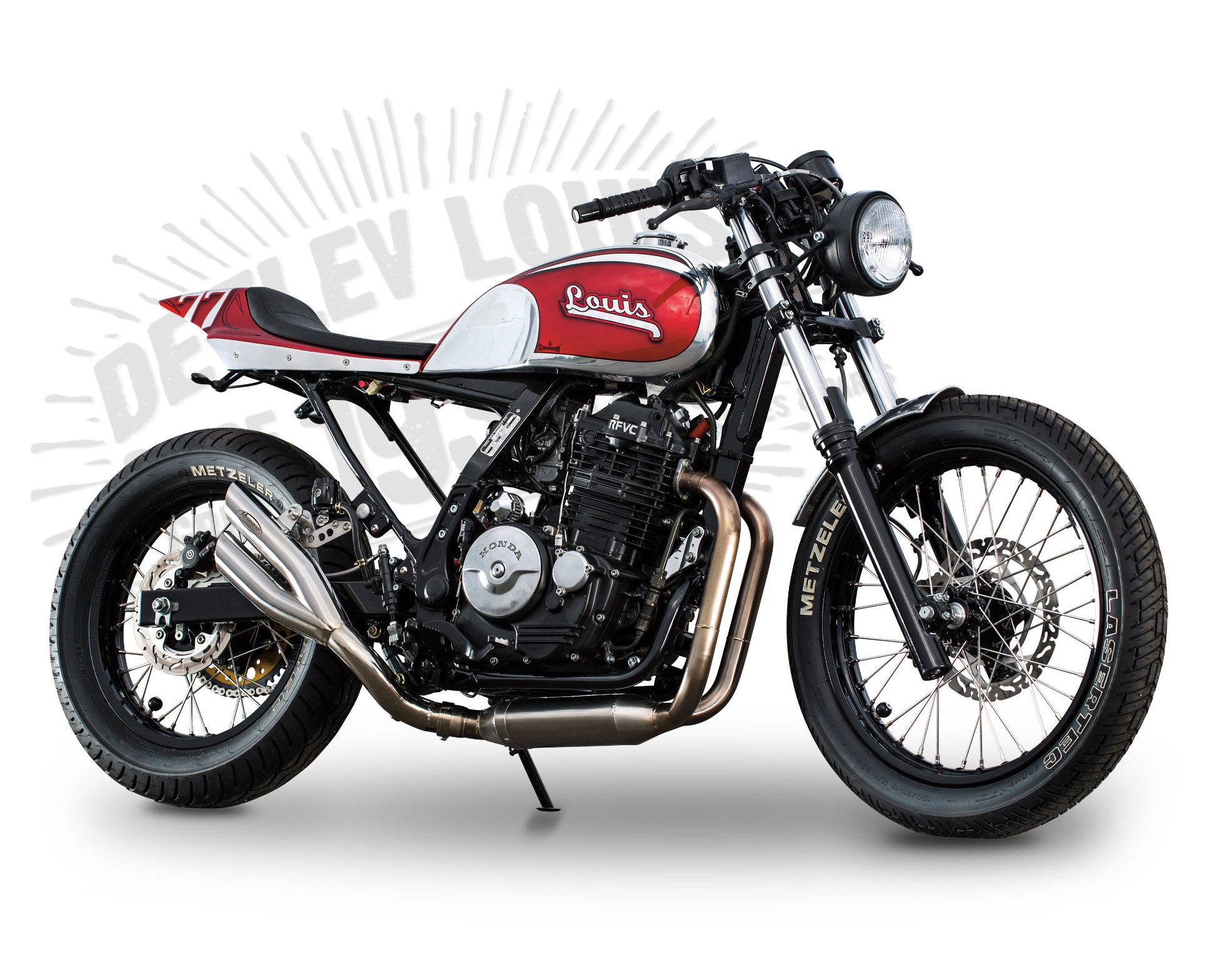 Honda NX 650 Dominator
It's hard to believe, but this lithesome beauty was once a chubby soft enduro. Admittedly, the conversion was rather more than just a face-lift. All that remains of the original machine are the frame, swing arm and engine – and the latter has been given some serious tuning.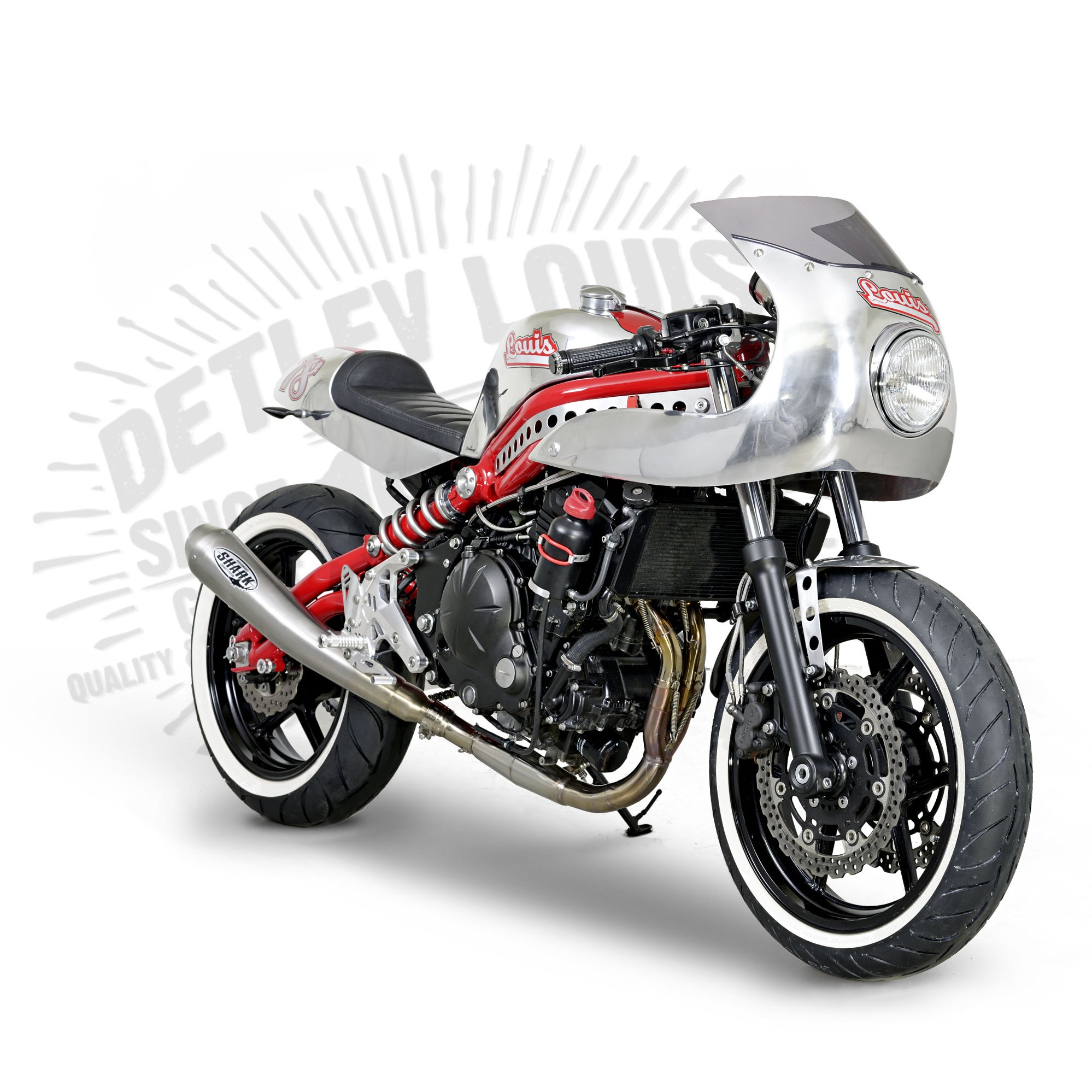 Kawasaki ER-6 N
You'd never guess this was once a docile training centre machine, wouldn't you agree? Yet the Louis Mechanics Crew mainly replaced plastic with aluminium. The fairing, tank and seat are custom-made, but the stunning frame and the swing arm, on the other hand, are entirely stock parts.
The motorcycle scene is buzzing
Just how important the retro trend has become is demonstrated by the events being held in many different places. The Glemseck 101 festival has grown into one of Germany's biggest motorcycle meets, and Louis has been a regular participant for several years now. The atmosphere is always fantastic. Retro is also an international trend: Louis attended the Cafe Racer Festival near Paris for the first time in 2016. This event, held on an old race track, combines plenty of excitement and a relaxed, friendly atmosphere.
Rediscovering travel
You can't explain the fascination of biking simply in terms of horsepower or technical wizardry. And likewise, travelling doesn't just mean getting from A to B. It's all about new experiences and discoveries. Paradoxically, the big touring bikes, with all their engine capacity and fancy features, sometimes almost detract from the travel experience. So it's not really surprising that nowadays you meet more and more cafe racers and scramblers when you're touring. But then, of course, equipped with suitable holiday luggage.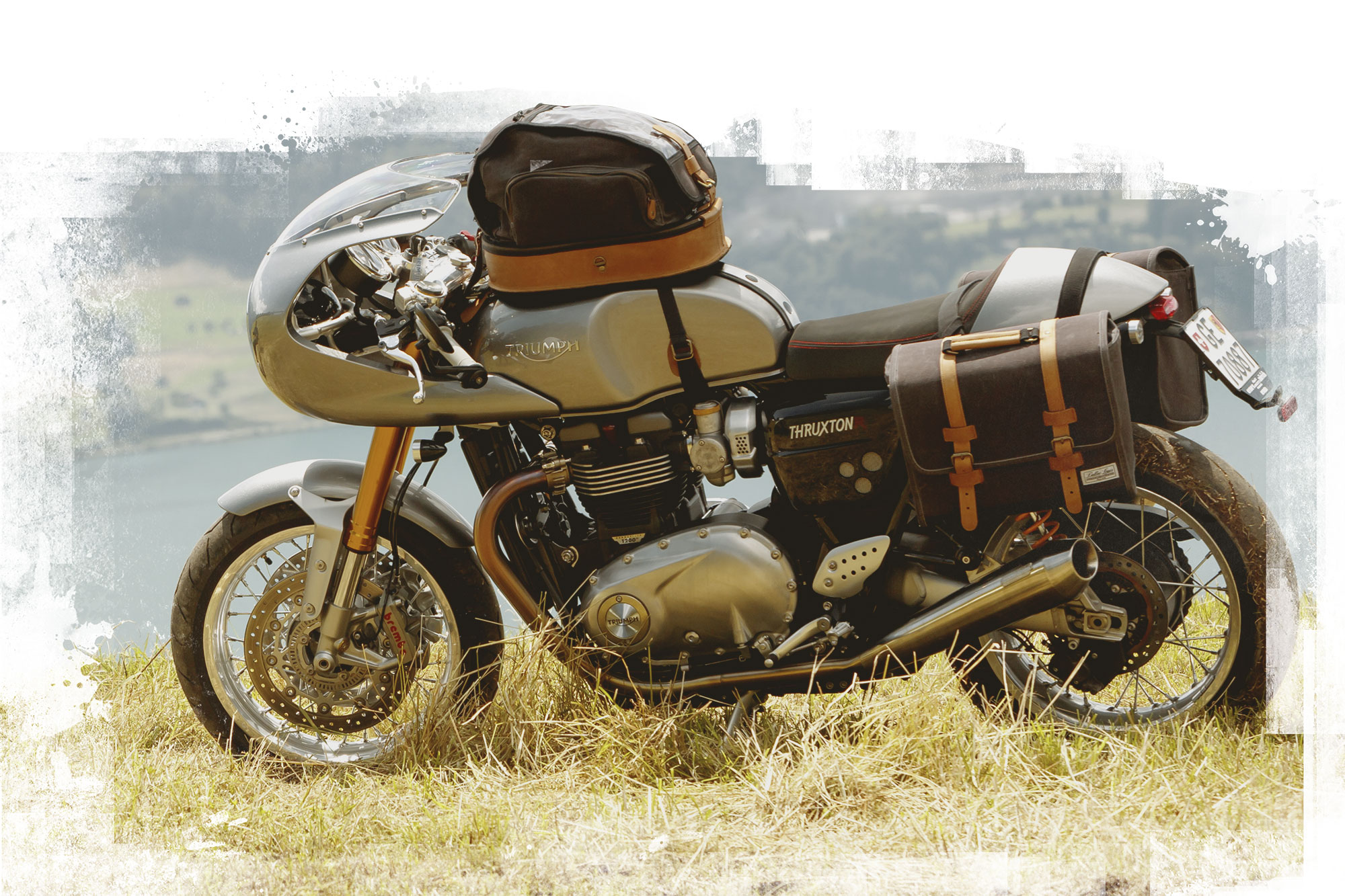 Louis canvas luggage collection
Special motorcycles call for special luggage: classic, high-quality, stylish. The canvas range is the perfect answer. Sturdy, lightly waxed canvas fabric, leather and brass are the key ingredients. Plastic? Only when it comes to waterproof covers or inner bags.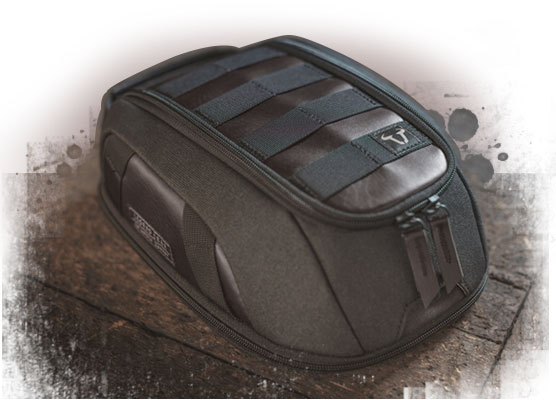 Legend Gear by SW-Motech
A different approach with the same effect. Legend Gear is the high-tech soft luggage for today's retro bikes. Less classic in style, but highly functional and elegant in its design.
---
Little things that say a lot: gifts and fashion accessories
In many ways, all the things that go with being a biker are almost as important as the biking itself. So you can always find a gift or fashion accessory that will delight any biking friend. And the big advantage is that there are so many to choose from! Everything from a garden gnome riding a chopper through to a belt with motorbike buckle, a classic pocket watch or a biker coffee mug, the Louis gift range has something to suit every taste.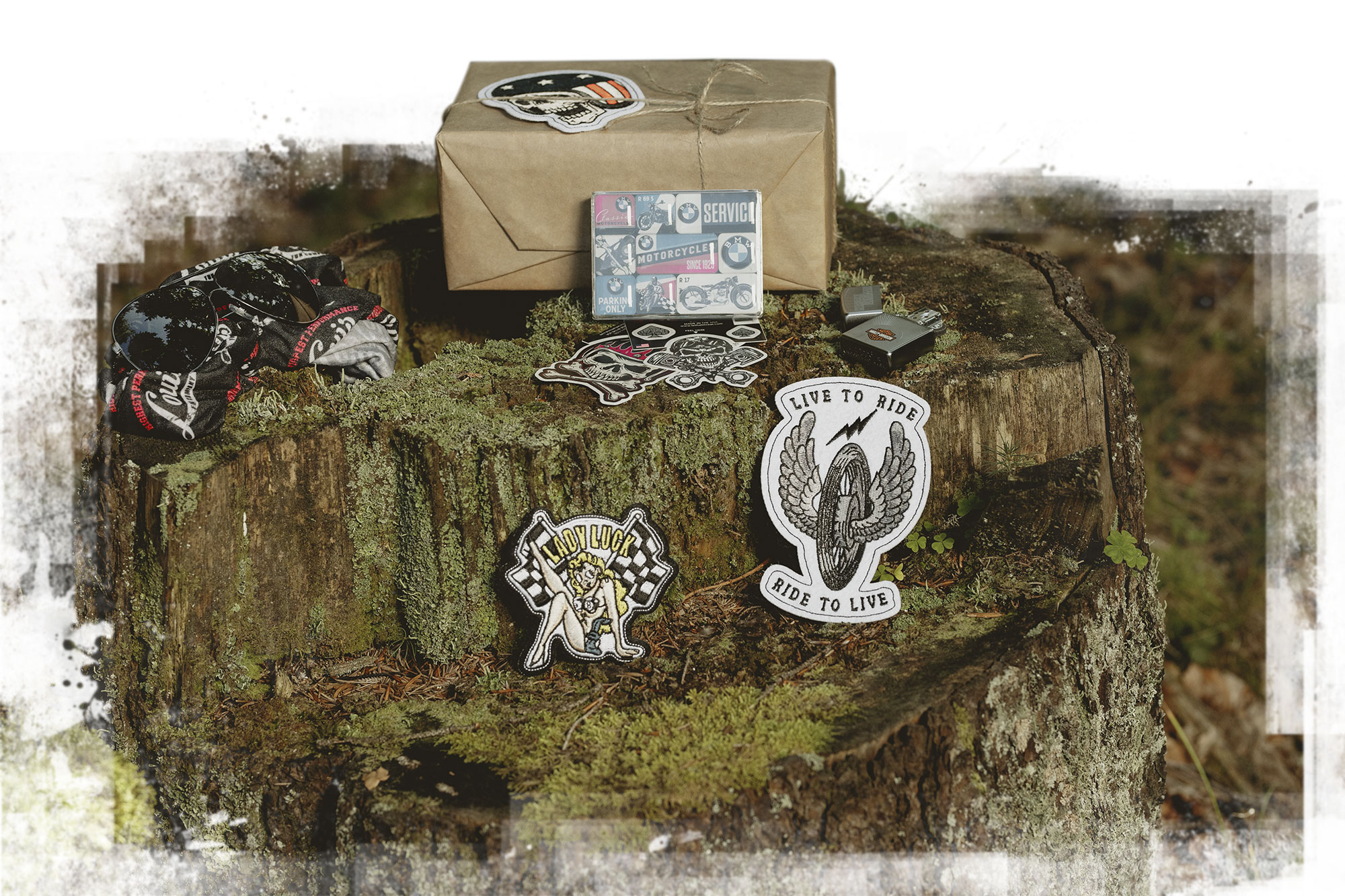 Gifts and jewellery for bikers
Let yourself be inspired! The choice at Louis is enormous. Our gift range includes lots of surprises, whether practical or just for fun, intriguing or useful, or just designed to make you smile. Our range of jewellery and watches has all bases covered – from hard-core to subtle and elegant. Skull pendant or heart locket necklace, heavy bike chain bracelet or classy pocket watch – you'll really enjoy shopping for the perfect gift.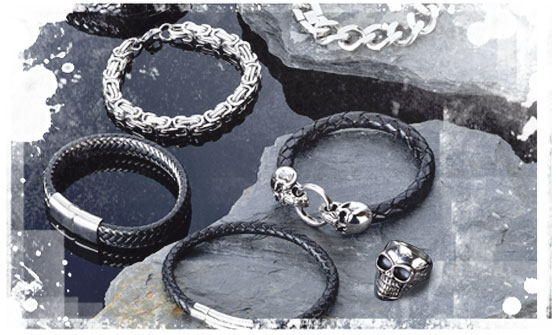 Accessorise your outfit
It's often the small things that make all the difference, and make you feel better than ever in your Louis motorcycle gear – whether by enhancing the fit or complementing your personal style. Our fashion accessories range from connection zippers, rivets and buttons to belts and braces, or even earplugs, which are highly recommended if you have a noisy helmet.