Rainwear and accessories
Rainsuits, rain jackets, rain trousers – Louis has a full range of waterproof clothing and lots of accessories for bikers.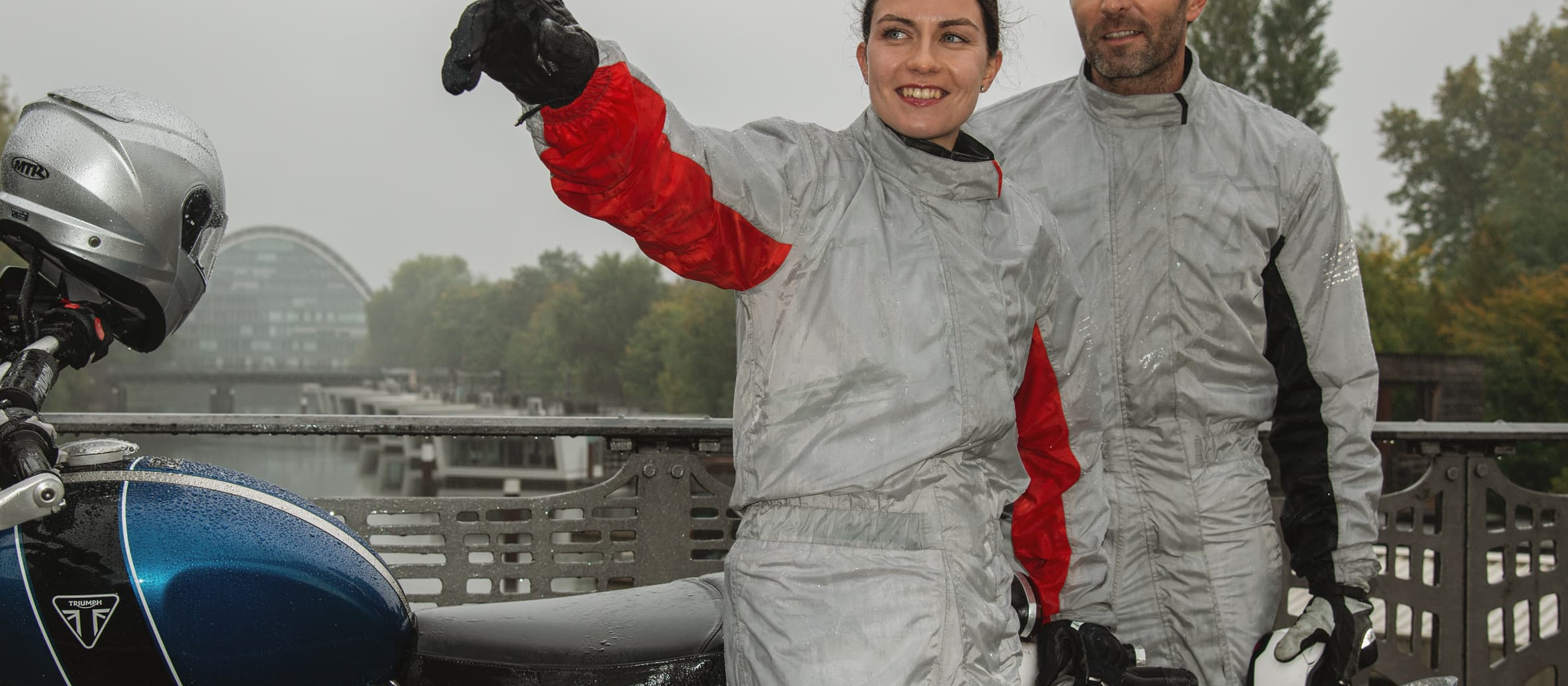 Rainwear
Bad weather? Stay calm – stay dry!
Nothing can keep a real biker from taking to the road, not even non-stop rain. After all, at Louis you have an enormous choice of rain gear to suit every taste and every type of weather. When you're well equipped, you can take any cloudburst in your stride and just keep riding, as dry as when you set out, until: "It's looking brighter over there!"
Motorcycle rain jackets
Motorcycle rain jackets are useful in many situations, even in these days of waterproof climate membranes. Not only do they offer (additional) protection against the wet, they also keep you warm because they cut out the wind chill factor. On cold days, a rain jacket is a real bonus in terms of comfort and safety.
Tip: When you try on a rainsuit, check that the legs are also long enough in the sitting position on your motorcycle.
Motorcycle rain trousers
On tour without motorcycle rain trousers? Unthinkable for any biker who prefers leather gear! Equally, if you wear rain trousers over textile clothing, you will appreciate the additional protection against the wet and wind chill. At Louis you will find motorcycle rain trousers to suit every taste and style.
---
Waterproof motorcycle boots at Louis
Waterproof motorcycle boots are a real bonus when it comes to comfort. They can make all the difference if it suddenly starts to rain when you're touring. So, it definitely makes sense – especially before you head off on a long tour – to find out about motorcycle boots made of waterproof materials. At Louis we show you different styles of waterproof motorcycle boots in all price brackets, and with various membranes.
---
Motorcycle thermals
Motorcycle thermal clothing from the Louis range gives the ultimate protection for bikers when the thermometer drops to zero and below. Whether a one-piece thermal overall or a jacket and trouser set, the principle is the same: the thermal lining creates an insulating layer of air under the wind- and waterproof outer shell. The design is so effective, this thermal clothing is not to be recommended once the temperature reaches 10 degrees (Celsius) or more above zero. And best of all: thermal clothing from Louis fits comfortably over any standard motorcycle gear.
Tip: When you try on thermal clothing, it's best to wear your normal motorcycle gear.
Tip: It's best to buy these overgloves/overboots at least one size larger than your normal boots or gloves.
Another useful tip: Cotton scarves soak up the rain and channel the moisture to the inside. You will find that tube scarves and neck warmers made of synthetic fibres provide better protection in the neck region.
---
Rainproof, lightweight, flexible and waterproof – Luggage and Accessories: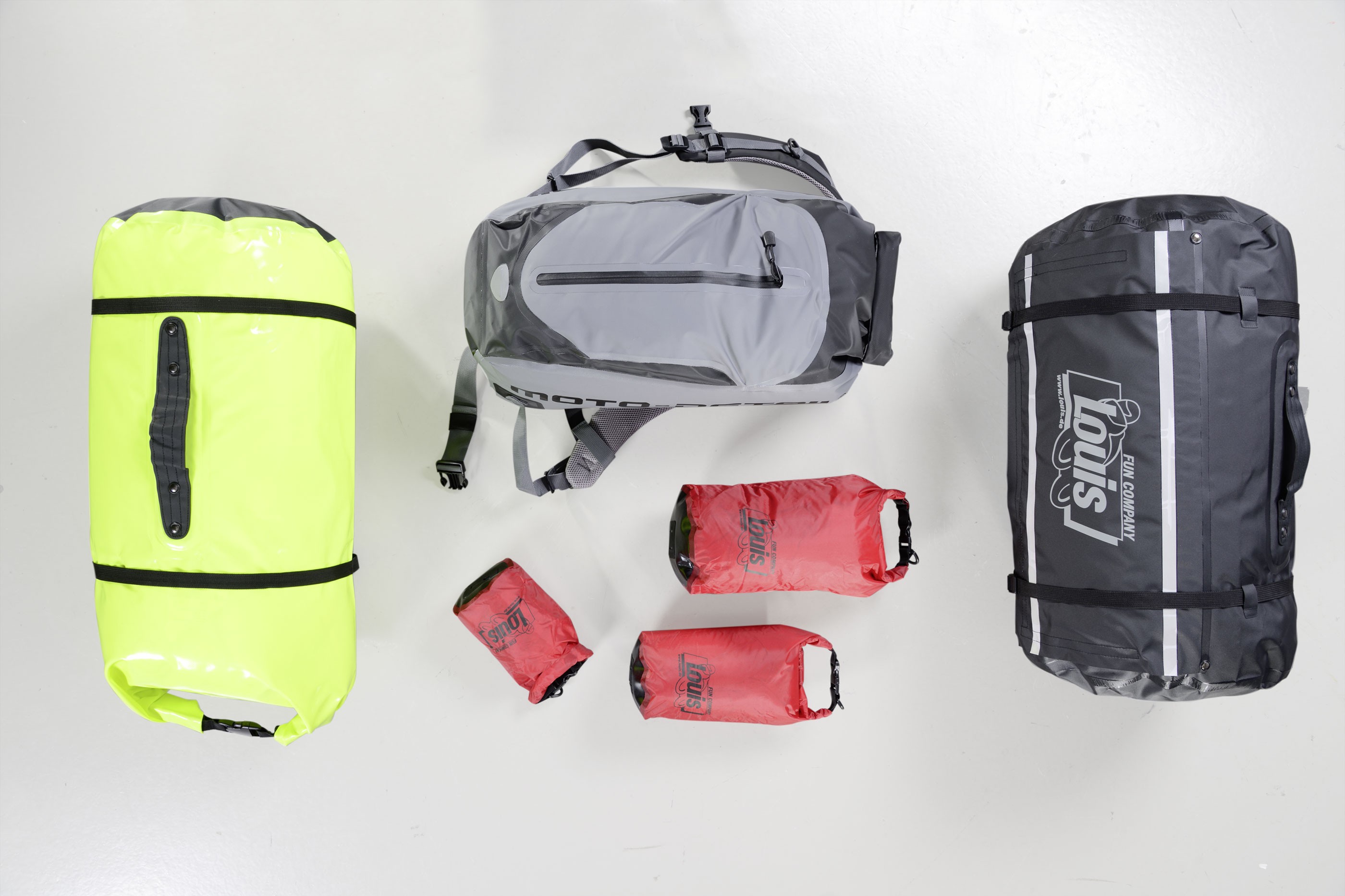 ---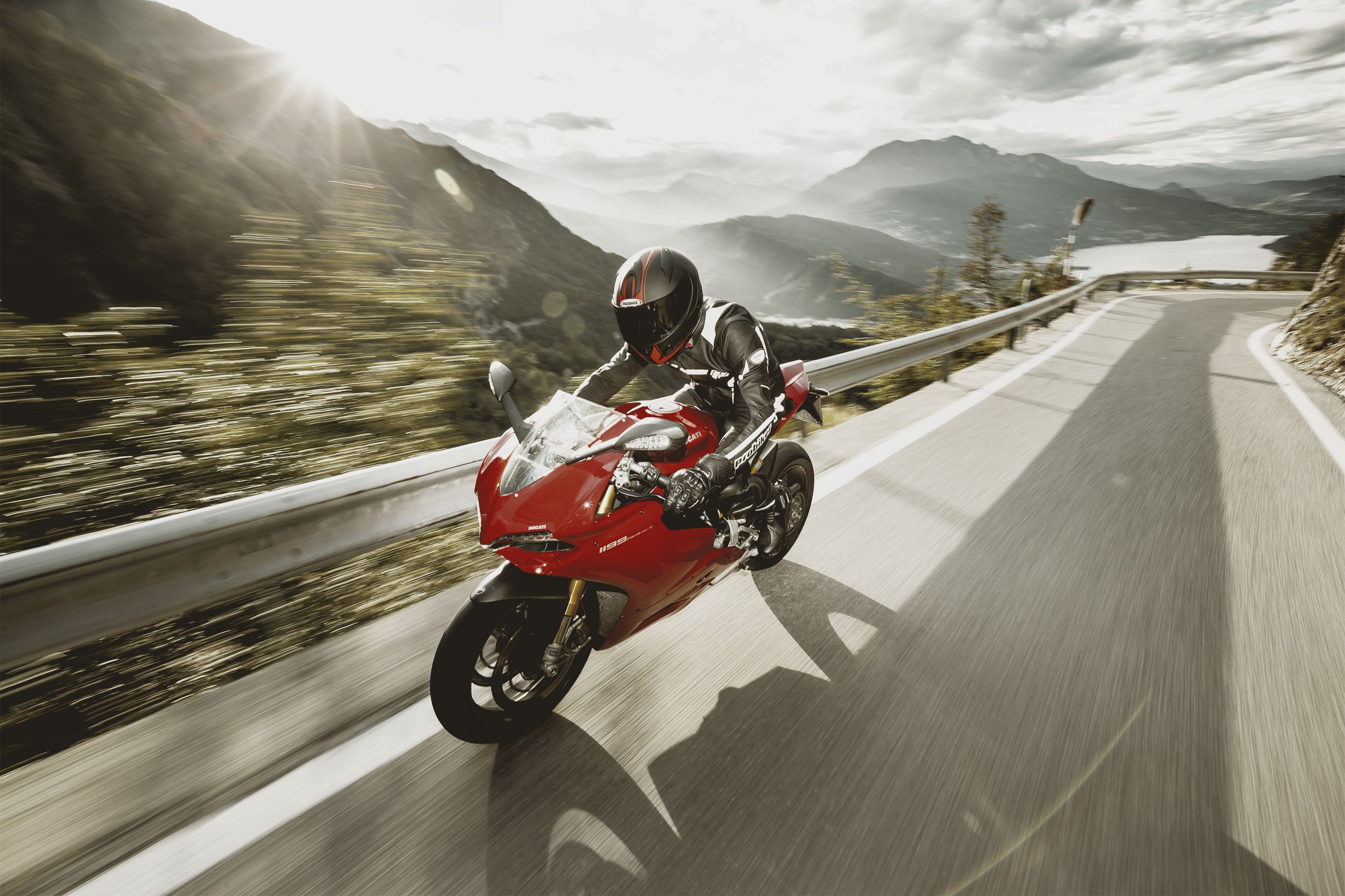 Riding in the rain
Rain is not a major problem as long as you adjust your riding style accordingly.
The regulations leave it largely up to us bikers how we choose to protect ourselves against cold, wet and the possible consequences of an accident. The main exception is Paragraph 21a of the German Road Traffic Regulations (StVO), which states that we must "wear a suitable protective helmet while riding on public roads".
It is a slightly different situation when you take your practical motorcycle test. Appendix 7 of the Driving Licence Regulations (FeV) states: "Candidates taking class A, A1, A2 and AM tests must wear suitable protective motorcycle clothing, comprising a properly fitting motorcycle helmet, motorcycle gloves, a close-fitting motorcycle jacket, a back protector (if not integrated into the motorcycle jacket), motorcycle trousers, and motorcycle boots with adequate ankle protection."
In the following pages we show you what exactly constitutes a suitable protective helmet and what motorcycle gear approved for taking your practical test actually looks like.